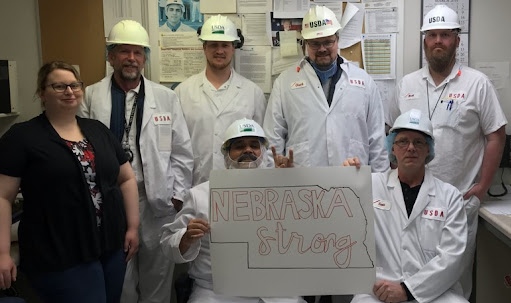 Dr. Chelsea Buckley (far left) and team collecting goods for those
affected by the 2019 flooding in Nebraska. (Fremont, NE)

PHOTO CREDIT: Chelsea Buckley, DVM, MPH, CPH,Frontline Supervisor
Harrisonburg, VA Circuit 8008,Office of Field Operations,Food Safety and Inspection Service, USDA
Have access to our listserv and Linked In group and where job postings and discussion occur.
Receive our newsletter, the AAFSPHV Quarterly which contains association news and a compendium of abstracts relating to veterinary public health and food safety.
10 hours of free online RACE approved CE offered through our partnership with ACVPM and NAFV
2 scholarship programs for which our student members are eligible:

For student members: up to $500 for expenses to attend the annual AVMA convention
Lafontaine Memorial scholarship to provide tuition support to students and veterinarians pursuing a graduate degree in public health or food safety

We offer a complimentary 1st year membership to new DVMs and new ACVPM diplomates
Opportunity to join our speaker's bureau to present at our ACVPM Partners webinars, AVMA and USAHA Food Safety Symposia and to One Health/Public Health student groups
Representation: Our organization has a designated seat on the AVMA House of Delegates, Food Safety Advisory and Legislative Advisory committees and the Committee on Antimicrobials. As a member you may apply for these positions or for officer, board or committee positions within the organization.