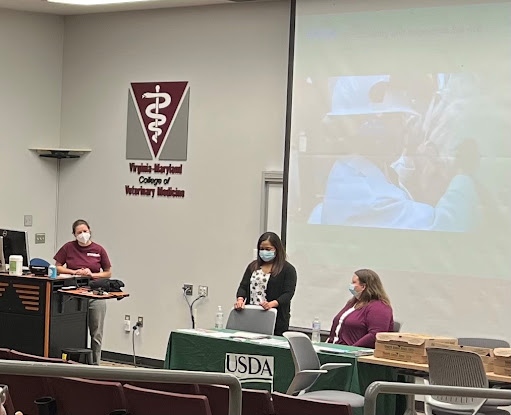 Dr. Ranette Goodwyn and Dr. Chelsea Buckley teaching veterinary students about USDA-FSIS
careers at VA-MD College of Veterinary Medicine in Blacksburg, VA.

PHOTO CREDIT: Chelsea Buckley, DVM, MPH, CPH,Frontline Supervisor,Harrisonburg, VA Circuit 8008,
Office of Field Operations,Food Safety and Inspection Service, USDA
The American Association of Food Safety and Public Health Veterinarians was formed in 2016 following the merger of our two parent organizations, The American Association of Food Safety Veterinarians (AAFSV) and the American Association of Public Health Veterinarians (AAPHV). The leadership of the two organizations decided that the efficiencies and synergies of a combined organization would serve the full spectrum of operations of all public health veterinarians. Our organization is an AVMA Constituent Allied Veterinary Organization with a seat on the House of Delegates and we have designated seats on the Food Safety and Legislative Advisory Committees and the Committee on Antimicrobials.
The AAFSV was organized in 1973 and was recognized as an AVMA affiliated organization and given a seat in the House of Delegates in 1979.
The AAPHV was formally established in 1995 to replace the former Conference of Public Health Veterinarians established in 1946. The purpose of the Conference (and the subsequent AAPHV) was to provide a single organization for all veterinarians who are professionally engaged or actively interested in public health and veterinary preventive medicine.